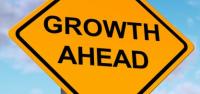 Every company goes through growing pains. They can be challenging, yet exciting. Get A Grip is feeling some growing pains right now. We've just broken ground on a new building – we've outgrown our office and warehouse space! And we've added people to the team to help us keep up with the growth. We're also adding new products – hence the need for more space. New people and products, a new facility, too tight space – it all adds up to good problems for a business to have. No matter what size your business is, growing pains are common. So here are some lessons we've learned to help you work through this time of opportunity and challenge.
Invest back into the business. Growth means spending money on additional staff, technologies, office space, supplies and much more. So keeping an eye on the bottom line by projecting monthly sales and expenses, collecting payments quickly, setting up a cash reserves and reconciling your monthly bank statements is vital. Learn how to decipher financial statements, too, so that you know what resources are going where, and why, and where you need to add or reallocate money. 
Hire smart. The desire to control things often means we don't hire people to help us grow soon enough. And yet, as a business starts to expand, everyone must evolve from a multitasking do-it-all-myself mindset into a big-picture leader who inspires her managers and employees to meet and even exceed the business' goals. So hire smart and soon.
Manage your time. Whether your business is a startup or a long-time company, you must prioritize your calendar so that you focus on the most important things. Delegate the time-consuming administrative tasks, although important, can be easily given away. You'll free up your time to concentrate on the activities that only you can do, that help you address your current business growth.
Review your business' processes. The processes your business uses to do routine tasks: payroll, incoming sales calls, inventory, etc. become key as your business grows. By writing these processes down, eliminating duplication and extra steps, you can identify bottlenecks to growth, and be able to quickly bring new people up to speed. This ensures that your business is positioned to quickly ramp up and continue to grow. 
Check in regularly. Review roles, responsibilities, and goals regularly – whatever regularly means for you. Meet with the team at least weekly to talk about what is working and what is not. Written goals and responsibilities hold everyone accountable, and keep everyone on track and moving forward.
Don't forget the customer. Just because you're busy doesn't mean you can ignore phone calls, emails or in-person meetings with customers. It's your customer that's pushed you into growth mode. Keeping your existing customers happy is vital to continued growth – they are your best referral sources or your worst nightmare if they feel ignored or unloved. So answer the phone, reply to emails and greet people at the door as if they were the only person in the world.
Every day is a new day with all the new challenges that it brings. For companies in growth mode, these ideas should help you manage those growing pains. Sometimes it's easy to miss the forest for the trees, and tweaks are all that's needed to make a difference. Just sayin'.
Published: New Mexico Apartment News Magazine – May/June issue 2017
Sharon Dillard is the award-winning CEO of Get A Grip Inc., a national franchise kitchen and bathroom resurfacing company based in Albuquerque, New Mexico.