About Just Sayin'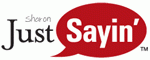 This blog centers around the column I write for New Mexico Apartment News magazine. It covers my reflections on life, business, communication and issues with a definite point of view. No nonsense… just sayin'.

The New Mexico Apartment News is the Apartment Association of New Mexico's (AANM) bi-monthly magazine designed to inform its members of upcoming education, events and legislative issues as well as give Associate Members an opportunity to advertise their businesses.
The Apartment Association of New Mexico is a private non-profit trade organization dedicated to providing a common foundation for rental housing industry professionals and the various businesses that service the industry. Founded in 1979, AANM currently has 750 primary and associate members, representing over 45,000 units. AANM promotes professionalism, education, career development and pro-active legislative efforts to benefit owners, investors, residents and other association members.

AANM is an affiliate of the National Apartment Association (NAA), America's leading advocate for quality rental housing, representing more than 6 million apartment homes throughout the United States and Canada.