More About Sharon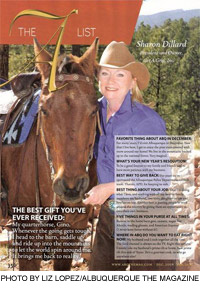 I started my career in high-end fashion, so living in New Mexico leading Get A Grip, a national franchise company where I go to work in jeans and cowboy boots, is quite a change. The fact that I get to work with my family in the business, chase cows on horseback and to take long trail rides in the mountains with friends, is icing on the cake.
I'm passionate about helping others achieve success in their personal lives and business ventures, which is why I started this blog. As a mother, wife, and CEO, I try to walk the line between managing and meddling by being an example, giving more effort than is required for any activity, and insisting that any task worth doing is worth doing well the first time.
In 1999, I took a patent and an idea and grew Get A Grip into a national franchise company leading the resurfacing industry. Since then, the company has won multiple awards, including a Duke City Dozen Award for innovation and creativity from the Greater Albuquerque Chamber of Commerce, and recognition from New Mexico Business Weekly as A Best Place to Work. Get A Grip has also been featured nationwide for its outstanding workmanship and products, and continues to rank on the Entrepreneur Magazine Annual Franchise 500 listing. To get your own Get A Grip gear, including our popular Get A Grip baseball cap, click here.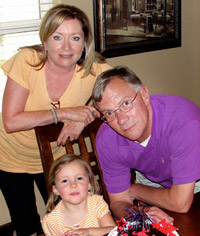 Follow my conversations with my granddaughter Harley; and experience my adventures in food with my husband and gourmet cook Cub. These blogs will explore the personal side of my life with family and friends — because all work and no play makes Sharon a dull woman! And I love to play.  And I love this bloggin' thing.  Just sayin'!